Breastfeeding Services
WIC provides you with many services and personalized support to get breastfeeding off to a good start and to help you enjoy your breastfeeding experience. The services we offer are listed below.
Breastfeeding Education and Support
Prenatal, postpartum and breastfeeding information and classes. 
View the education menu:  Nutrition and Health Education During Pregnancy.
Breastfeeding counseling by phone and in person.
Help available from a Certified Lactation Consultant if you have any breastfeeding difficulties.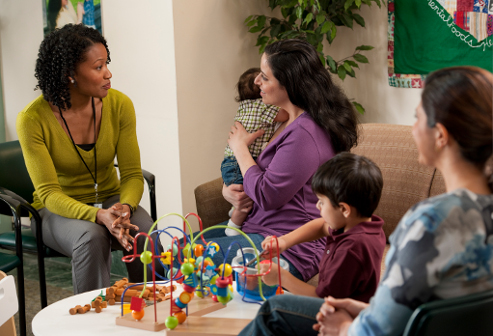 Enhanced WIC Food Packages:
Moms who are fully breastfeeding receive more WIC foods for themselves and more baby foods for up to one year.
Moms who are mostly breastfeeding also receive foods for themselves and their baby for up to one year.
See for yourself! View the Comparison Sheet: Fully Breastfeeding.
Lactation Specialist-Helpline
For help with breastfeeding call:
1-800-472-2321
or 909-252-5170
during the hours of:
Mon. Wed. Thur.:
7:30 a.m. – 5 p.m.
Tue: 7:30 a.m. – 5 p.m.
Fri: 7:30 a.m. – 4 p.m.
For breastfeeding resources and support, dial 2-1-1
---
En Español
Apply to WIC
Call us or Text
ApplySBWIC or
SolicitarSBWIC
to 1-800-472-2321
Reschedule Your
Appointment
Call us or Text
ChangeSBWIC or
CambiarSBWIC
to 1-800-472-2321
Barstow WIC
301 East Mt. View Ave., Suite A
Barstow, CA 92311

Colton WIC
290 East "O" St.
Colton, CA 92324

Fontana WIC
9161 Sierra Ave., Suite104
Fontana, CA 92335

Fort Irwin WIC
Inner Loop and Goldstone, Room 9
Fort Irwin, CA 92310
Hesperia WIC
14135 Main Street, Suite 250
Hesperia, CA 92345

Ontario WIC
150 East Holt Blvd.
Ontario, CA 91761

Rancho WIC
9507 Arrow Rte, Bldg7, Suite A
Rancho Cucamonga, CA 91730

Redlands WIC
800 East Lugonia Ave., Suite K
Redlands, CA 92374
Foothill WIC
850 East Foothill Blvd. 
Rialto, CA 92376

Highland WIC
1535 East Highland Ave.
San Bernardino, CA 92404

Mill WIC
606 East Mill Street
San Bernardino, CA 92408
Yucca Valley WIC
Dept of Public Social Services
56357 Pima Trail
Yucca Valley, CA 92284
San Bernardino WIC
2035 North D Street
San Bernardino, CA 92405

Twentynine Palms WIC
6527 Desert Queen Ave.
Twentynine Palms, CA 92277

Victorville WIC
15247 11th Street, Suite 700
Victorville, CA 92395